Before you do anything today, please go back on over to Ruth's. She's posted her first installment in the Playing with Colour series and you must NOT miss it! Ruth is really really really on to something here. I'm just jealous I didn't think of it first. 😉
Last night I had my first color crisis with my squares. My process for picking colors is like this: dump the large bag of Tahki Cotton Classic on the floor and start rifling through finding colors I like. Once I've identified a range, I pick the four that hit me somewhere – my head, my heart, my eyes – I don't know – I'm maybe not that conscious of the process (sorry Margene!) I just get four I like together. Usually I try to make sure there's some kind of zinger in there.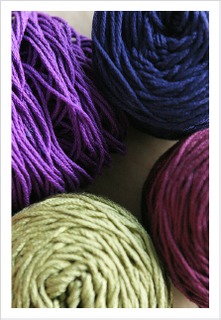 Once I've got my colors together, then it's time to decide which one is going to be most dominant. As I said before, I'm choosing one color of four (right now – this might change as I go along) that is the lead color on all four miters of a square. The other three colors become the "background" with one repeating twice. Don't hold me to this particular rule. The main color rule – that's staying. I really love the cohesiveness it brings to the squares and I think it lets me go a little wild in the background colors. I haven't felt the need to go all out with four different backgrounds yet, but it could happen. There are going to be A LOT of squares. Lately I see this as a cover for my king size bed. Not necessarily a blanket to actually fit – just something to lay over the top of the bed. I'm crazy – but I'm not insane. I don't think so at least. I've always taken comfort in the idea that if I ever do truly go insane I won't know it because I'm insane. My therapist likes to burst this bubble all the time.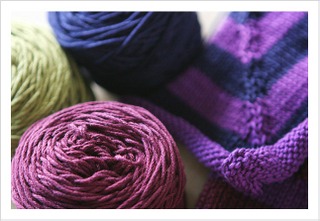 For square number 7 I chose a vibrant purple, a very dark purple, a wine, and a green. Right away I thought I'd go with the vibrant purple as the main color, and the dark purple as the repeating background. I like to knit all three different background colors before I do the repeat just in case I want to change my mind. I had two miters done last night at about 12:30 AM and I cast on for the third miter because you MUST CAST ON when you finish a miter. This is a law. There is no skirting around it. A tradition, but not necessarily a law – although as the rabbis teach us, tradition can sometimes be more compelling than law – is to knit the first six rows of the miter. Or at least get past the first two rows.
So I'm in bed and it's very late and I'm very tired and I just want to get a couple of rows under my belt on the next miter when I suddenly decide that I've fucked up the order of the colors! The DARK purple should be the main color – NOT the vibrant purple. (Please PLEASE don't ask me the color numbers. I'm keeping spreadsheet after spreadsheet of the yarn colors I have and where I've bought them but I neglected to write down which colors I'm using for which square. Sometimes I think I'll work backwards to figure it out (because what if there's a color I really like and want to use again!?) but then I don't. It's adding a bit of anxiety to the project – which might actually be a good thing. Maybe I am crazy after all?) Luckily I was smart enough to know that in the poor poor light of my bedroom and the dark sheets (dark purple and wine purple) I wasn't going to be able to tell anything. So I put the miter down, turned out the lights and tried to sleep. You know where this is going right? I couldn't get the miter out of my freaking mind – turning the colors over – questioning my decision. Then I had a weird dream about being thin and wearing a Von Furstenberg wrap dress. Oddly, it wasn't a very good dream.
When I woke up this morning and took the miters into the light to photograph for you, it became clear that my first instinct was the right one.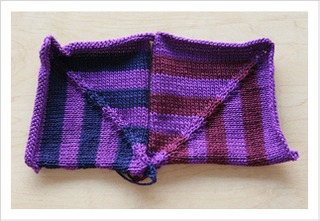 At least I think so. For now.
A couple of things about the miters – someone asked if they were heavy. I weighed one square – four miters – lightly blocked, ends hanging, unsewed and I got 68 kg or 2 3/8 oz. (What the hell do I know! It says kg right there on my scale!) They don't feel very heavy, but I'm sure the blanket will be substantial when they're all sewn up and laying over my lap.
Another thing – someone asked where I'm getting the Tahki Cotton Classic from – my initial forty skeins came from WEBS grab bag sale, which is over. Then I bought another 20 skeins from them as singles. WEBS has a nice discount policy – the more you buy the more you save. My greedy search for more colors also took me to Flying Fingers. I wasn't so happy with this store when I was actually IN the store, but the mail order customer service has been very nice. A couple of the colors I wanted are on backorder – but they assured me I'd be getting them soon. The third place I've been buying TCC is from the Tahki website – they use Shopatron. If you're not familiar with Shopatron – it's a FABULOUS idea! You buy the yarn from the manufacturer's website (I know Louet uses Shopatron as well) and the orders are actually fulfilled by local yarn stores! So my large order for Tahki Cotton Classic was fulfilled partly by The Yarn Shoppe in Miami, Florida and My Knitch in Fitchburg, Wisconsin. I don't know about you – but I think this is great! I get to shop in one place for all the colors I want and Shopatron gets to track it down for me! And I'm supporting local yarn stores (maybe not MY local yarn stores, but somebody's!) I should be getting more yarn any day now – I'll let you know how it plays out. (Just a note – it looks like the prices on the Tahki web site are a bit more expensive. By like $.25-$.50. For me, that's okay – because I don't have to go searching every small website on the Internet. I'm the person who will pay full price at Bloomingdale's because I CAN NOT STAND sifting through the racks at TJ Maxx. That's just me. Time is money.)
Thanks so much for all your kudos on our crazy weekend. As I mentioned, I am extremely close with these kids and besides my own, if I have them one day, I wouldn't do this for anyone else. (Sorry!) I love them to distraction and anything I can do to make their lives a little better – by keeping with their routines or letting them eat pasta with butter until they burst or letting them sleep with me because they miss their Mommy then I will do it. I would do anything for them. They are my family.
Okay. Off to knit miters! Have a great da
y!