Thanks everybody for your nice comments about the yarn I made. I'm very happy with it. As to what I'll knit with it? I don't know. I haven't really spun up that much yarn, and only once did I have a project in mind while I spun. When I was spinning up the yarn that became my Seraphim Shawl, I absolutely KNEW the yarn would be a shawl. It made the spinning much different for me, honestly. But the yarn I just made? It almost feels like it's finished – I don't need to knit it up. In fact, when I was done smelling it and loving it, I threw it on the top of this basket: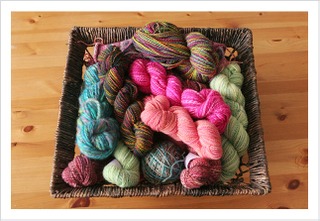 This lovely basket sits utop my yarn bureau and it's got mostly handspun in it – not just my handspun, but all of my Sock Hop yarn as well. And maybe a half a skein of STR. It's a beautiful burst of color in my otherwise neutral bedroom. Eye candy in every sense of the word. I like the idea of yarn as the finished product – yarn as art. Maybe I'll submit it to The Yarn Museum.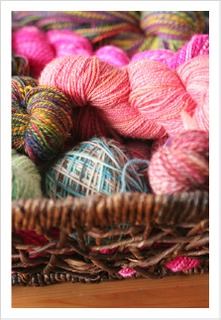 Anyway, I have no plans to knit with it just yet. I will, of course, show it to you if I do. In the meantime, I'm looking for yet ANOTHER sweater project. I think I had a dream last night that I was wearing Short Rows and someone complimented me on it. I've had incredible luck of late in picking sweater projects – Ariann, CPH – but I don't feel like I'm done yet. I've been knitting away on the mates to the J-One/G-Rocks socks but I'm not feeling the sock love. I need something to SINK my teeth into. It's funny – I've read like five books since I started Ariann and knit two sweaters – and now I'm on the look out for another book AND another sweater.
I actually started a swatch for Am Kamin. But I haven't gotten farther than the twisted ribbing. Although I did make beautiful copies of the charts and such. I just need to start knitting the actual cables. Most likely this won't be my last swatch for this project so I better get going. I just want to be IN THE MIDDLE you know? All this prep work can be so tiring. It's why I don't like to cook. I'm too impatient for the prep.
I wouldn't be surprised if another sweater bites me in the ass before this swatch is off the ground. Just sayin'.