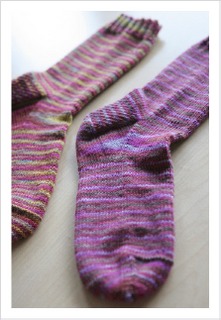 As Tracey said, every time you knit with Socks That Rock feels like the first time! This morning I finished my "pair" of socks – the G-Rocks and January One socks which I knit at the same time on two circulars. Of course, I love them! They are soft and stripey and perfect for my feet and G wants his own pair. I told him I'm gonna have to get some heavyweight for his socks – he wears size 13 shoes. Lucky 13 for me! (Um… That didn't come out right. Insert sarcastic face here.)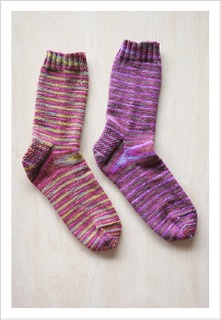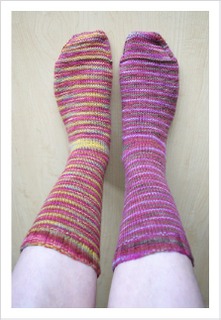 I immediately cast on for the mates – two at a time – once again. Even though I really didn't like the whole two at a time thing. I guess, technically, it probably takes just as long to knit two at a time as it takes to knit one at a time, but it FEELS like it takes forfreakingever and sometimes perception is enough. I was going to just knit one of the socks and then I was going to start with a completely different yarn, but in the end I decided that knitting these socks is like marriage. I was super excited when I started knitting them – TOGETHER – and I'm thrilled to be wearing them, but starting the next "pair" was a little bit hard and I'm sure it will be even harder to knit them but when I'm done I'll have TWO new pairs of socks and I will love them all the more for the effort that went into knitting them. Sometimes we need to do things we don't really want to do – but in the end it's all worth it. Just like marriage. 😉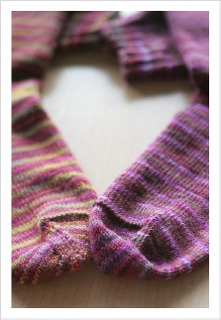 January One loves G-Rocks!
I know you don't really care about my socks, you want to know about YOUR socks, or more specifically, did you WIN! Well, I've already sent out an email to all of the winners – did you get one? Check the list to see:
Fidget
Denise
Jan
Linda
Sandy
Karen
Carol
Vitpil
Rob's Wife
Amy
Gayle
Frog Princess
Subha
Annette
Irene
Sanne
Barbara A.M.
Stacy Wittmann
CONGRATULATIONS! I hope you love your yarn as much as I do! As I mentioned, I sent an email to all the winners – so if you see your name up there and think it's you but didn't get an email, please check your spam filter before you email me.
All I have to say about this contest is thank god I didn't ask for Haikus and damn people! Go out and get yourselves some! What are you waiting for?
Thanks for playing!!