Because it's more like sleeve hell. And an island connotes peacefulness, calm, vacation. Sleeves are anything but. I'm still loving the pattern and the yarn and yada yada yada but really there's nothing enjoyable about knitting sleeves. Why is that? I'm SO glad I'm doing them both together because the pattern calls for you to work the increases into the pattern and oh my god that's so freaking hard that if I had to decide what I was going to do on one sleeve then try to remember or understand what I did when knitting the SECOND sleeve I would never get it done. And of course I write stuff down but who can remember what they wrote when they're scribbling stuff? And I always forget something somewhere. So the sleeves continue.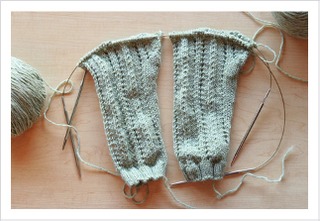 And even though they look like socks, I promise, they really are sleeves.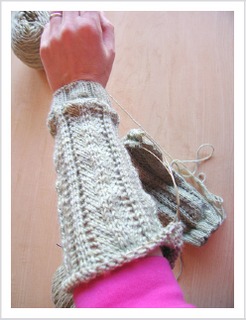 I probably won't get much knitting done this weekend because the cards and all their packing materials arrived. Now I just have to put it all together and wait for USPS to send me the priority mail boxes. Which hopefully come today or tomorrow. There is still stock to be had, so if you're interested, here's the information again:
Palette Blank NoteCards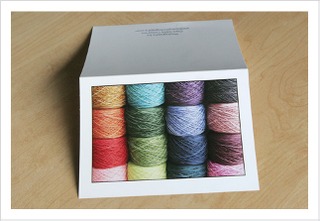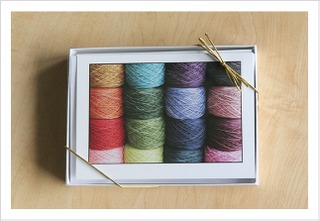 Box of eight press printed notecards. 5″x7″ glossy card stock. Blank inside. Envelopes included with each box. All cards in box are the same. Will ship in approximately two weeks from purchase. $4.50 shipping and handling charge added to each purchase. Quantities are limited.
The cards came out better than I ever hoped and I'm really really really happy with them. Thank you to all who have purchased the cards – I hope you love them as much as I do! (PS – They make great stocking stuffers. 😉 I'm SO bad at the self-promotion!)
Once again, thank you for all the good wishes, vibes, mojo, karma you're sending our way. I fear I may have used up a lot of my own personal good karma yesterday driving into the city to get to the appointment. G had gone to work much earlier for some conference calls and I left around 9:30. You should know that NYC is literally around 3 or 4 miles from my house. Then add on another couple miles to get to the East Side. Round it off large and you've got say, 10 miles. That's being generous. It took me over 2 hrs to get to the appointment. I alternated between crying hysterically that I was missing possibly the most important appointment of our lives, and screaming at the top of my lungs at every other car on the streets of New York. If you happened to be looking into my vehicle yesterday, I can assure you it was NOT a pretty scene. As luck would have it, when I finally got to the hospital, G had not gone in yet and we waited another 45 minutes before they called us in. I felt like the worst wife in the world while I was driving though – it was not a fun start to the day.
Thanks for all the advice about going on the Internets and looking up cancer. We learned that lesson the first weekend after the diagnosis. I'd be in the office ostensibly doing work and would let out some huge sigh and G would call from the other room – what'd you read? Tell me what you read. Or I would walk into the living room where G would ostensibly be doing work and his eyes would look a little red and I'd say what did you read? Tell me what you read. We quickly got over that and stopped reading. Even me, former research queen – I couldn't handle it. I figured there would be plenty of time for research when and if we needed it. Fingers crossed we won't need it.