Gather round, kids – Auntie Cara's going to tell you a story. If you sit quietly and listen – there will be a knitting treat at the end.
I'm glad my post yesterday hit such a nerve with so many of you and all day as I read your comments I thought about how I came to know what I know in my life. I thought I'd tell you a little bit more about me.
It was fourteen years ago – almost to the day really – that I had my first existential crisis. It was to be the first of many and in retrospect hardly the worst, but it taught me one of the most important lessons of my life. I was weeks away from my 23rd birthday – just a baby really – and I was preparing my first papers for graduate school. I was supposed to be living the dream: one year out of college I was accepted to a very prestigious graduate school in a PhD program in a subject I loved (Philosophy of Religion – Theological Existentialism – specializing in Kierkegaard.) I was commuting back and forth to Philly from North Jersey for school – living with the love of my life – preparing to write papers on my favorite subjects. I had worked for this for years – it was my dream come true.
And then I couldn't write the papers. I did all the research and made all the notes and I couldn't write. Every day that I couldn't write I got sicker and sicker. Anxiety attacks. Nausea. I could barely leave the house I was so panicked. I didn't know what was wrong with me. I thought I was either dying or going crazy. Or both.
I went home for my birthday and I remember driving around with my mother and I told her that I didn't think I wanted to go to graduate school anymore. Instantly I felt better. Instantly it felt right. This wasn't what I wanted to do. Of course, the anxiety didn't end there – I had to actually drop out of school. I had to tell my father, who had hung banners of this prestigious school all over his office walls and told everyone he met that his 22 yr old daughter was in a PhD program. I had to tell the school – where I was supposed to be TAing a class the next semester. I had to tell Georgie. But most of all I had to convince myself that it was okay not to do this – this thing I had wanted to do for years. Had worked hard for – had made a commitment to – not just on paper but in my heart and soul. The visions I had of my future were all academic – I would be off summers to raise our kids. The ivy halls would become my home. We'd travel to the best jobs. I'd start smoking a pipe and have leather patches on my elbows. The saddest part of the whole thing was that the 2 hour train rides back and forth from home were my favorite part of the day. And if you've ever commuted on Amtrak you know that that's pretty pathetic.
So I came home from my parents and told Georgie that I wanted to quit school. I was sitting in his lap in our old apartment and he was holding me and I was crying and without missing a beat he said I'll take care of you. Possibly the nicest thing anyone has ever done for me. Really. And we were so young then.
I did drop out. I threw up in my father's office before I had to go talk to school but they seemed to understand and I've never had any contact with them again. I came home and continued to have anxiety attacks. I didn't work. I took up pottery. And then I started to look for a job. I needed a job. The week before I was supposed to start a new job I had the worst anxiety attacks of my life (up to that point – unfortunately they would actually get worse much later on.) I started seeing a psychiatrist. I started my new job and the first week of work I popped a Xanax before I left home every day. Eventually everything got better and the anxiety lessened and I realized some things about myself and my life.
Deciding that I didn't want to go to graduate school – deciding that I didn't want to spend at least seven years of my life being miserable doing a job I was never going to enjoy doing – doesn't mean I QUIT. It means I made a DECISION that something was not right for me. As a life long perfectionist taught to finish what you start, deciding that this wasn't the best thing for me was one of the hardest things I've ever had to do. On paper it really does look like I couldn't do it and I quit. But that's not how real life works. I remember talking to a good friend afterward and she told me how strong she thought I was – I laughed because here I was paralyzed with fear – and she said no – I was strong because she would never have left the program and would've been stuck there forever. I guess I was strong but really I was just insane. My body and mind forced my hand in making this decision because I was making myself sick. It had to stop.
I learned, too, that I had to grieve for this person, this vision of what I would not become. I would never be a professor. Never be a Kierkegaardian scholar. And THANK GOD for that because I would be one of the most miserable people in the world right now and my life wouldn't be anything like it is and despite some blips in the road here and there, I have a fantastic life. I love it just the way it is – ever changing but true to me.
The moral of this story is to listen to your insides. If they're making you crazy sit up and listen! Deciding that some path or relationship or situation is WRONG for YOU doesn't make you a quitter. It makes you smart and content and it may take a while to see these things through – I was pretty miserable for a long time after I left graduate school – but eventually you will be all the better for it.
I may have taken this advice too much to heart at times – I'm on my fourth career now – and I've been INCREDIBLY fortunate to have the support I have from my husband and my family in all the endeavors I've undertaken. But I've always worked very hard for what I've done and what I've had and continue to have.
I'm not sure why I'm telling you all this today – maybe because I feel a receptive audience or maybe because I've been thinking about my life a lot lately, but here it is. It's good to share and if maybe one of you is kind to yourself and realizes that you aren't where you want to be or need to be and finds some courage in this post and gives yourself permission to CHANGE, not quit, then I'm happy. What's a life lived if you can't share it with others?
Thank you for listening. Now onto the knits.
Here's the blocking rug shot of Ariann, ala Bonne Marie: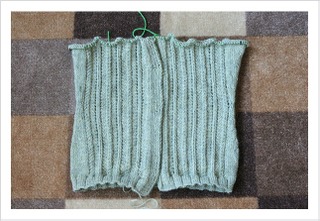 I just realized the color is WAY off. I must have changed the white balance and didn't notice. There's no blue in this green at all. See here for accurate color. And another shot of the body: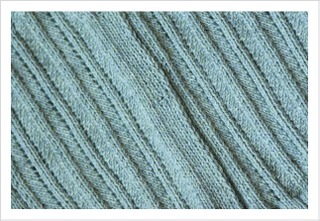 Yesterday was sleeve day. I love doing both sleeves at the same time when I knit sweaters. There's nothing worse than finishing the back and the fronts and one sleeve only to have to knit ANOTHER sleeve before you're done. So I do both sleeves at the same time. Also, this helps when you fuck things up on one sleeve – the same fuck-up occu
rs on the second sleeve and you can therefore call it a design element. Voila! The sleeves for Ariann are knit in the round, so this was also a good opportunity to learn how to knit two things at once on two circulars which is my preferred way of knitting small circumferences. I looked at all the websites and couldn't figure out the freaking cast on. This has been my problem before. So I solved it myself. The pattern has you start knitting the sleeves on small needles, so I cast on the sleeves on BIGGER needles. I joined the first sleeve in the round then transferred it to the smaller needles. Then I cast on the SECOND sleeve on the bigger needles, joined that one in the round and transferred it to the smaller needles. Two sleeves on two circulars! It worked (after the second or third attempt and one rip out because I thought I had the wrong number of stitches but really I just read the pattern wrong.) Things were going along swimmingly until around midnight last night when I realized that I made a mistake on ONE sleeve, but not the other (only I can fuck up a design element.) So I ripped the bad sleeve while leaving the good sleeve intact on temporary needles – knit until the bad sleeve caught back up to the good sleeve and put them both back on the needles and we were on our merry way. It's slow going knitting both sleeves at the same time, but when I'm done – I'm DONE (with the sleeves at least.) I'm not sure I would do this with socks though. Don't ask me why, but it feels like I wouldn't do this with socks. Maybe. We'll see.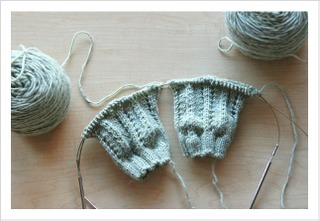 Sorry if I got a bit preachy or pedantic up there. I'm just trying to spread the love. And save the cheerleader.
L, C