KNITTING! And it feels so so so good!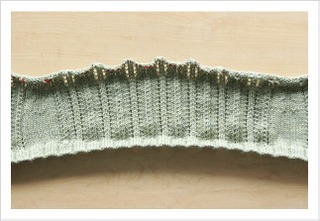 I have one purl row to go before the last waist shaping decrease. I need to figure out a button hole method and also add a new ball of yarn (one down six to go!) before I start knitting again. That's about 7" of glorious Ariann. I love this pattern. LOVE IT! I've made it a bit longer – instead of the pattern specified 4 pattern repeats before the waist shaping I did 9. A repeat is only two rows and I'm dealing with the whole row gauge thing (I'm getting 28 instead of 24 per 4 inches) so I think it works out well. And when I did the decreases I added an extra repeat between each one. I'm going to do the same with the increases. YAY! My goal is to have the body finished by the end of the weekend. We'll see – no pressure – but I want this sweater wrapped around me ASAP.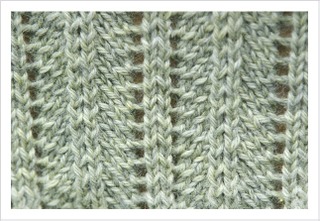 Bonne Marie is a genius. Look how beautiful the stitches are – I love how the decreases and YOs all work together. I think this would make a beautiful sock pattern as well. Nice and simple but oh so elegant. I did what Bonne Marie suggests and took the sweater off the needles and measured it width-wise to see how it's going. With a little bit of stretching (which you'll need to do for the lace anyway) I'm getting the 43″ called for in the pattern. I'm just so happy about this project. I hope nothing happens to fuck it up. It's like I've put all my eggs in Ariann's basket. Not too much pressure or anything.
I was remiss yesterday in not mentioning where I bought the cutie string dolls and yarn – Knitty City in NYC. A very nice yarn store. Check it out if you're in town. A MUCH better choice than the other knitting store on the Upper West Side. BEYOND better.
A couple of other things: SUBMIT TO YARNIVAL!!! Two days until the deadline for submissions for the next issue. Go! Run! SUBMIT!
Also, I might be the last person in the world to link this, but I first saw it over at Cate's. Apparently, there's this guy who's doing some kind of project on how meme's spread. Consider this my mention and link to the project. And now I'm going to go ping the entry. Let's show this guy that knitters KICK ASS. Go ahead and link to the project on your own blog. And don't forget to ping! (What does that mean anyway?)
Have a great day. I'm gonna go eat some fantastic leftovers from the fabu dinner Georgie cooked last night and then I'm gonna knit knit KNIT!