I sailed along on Ariann yesterday! I think I only had to rip back once – and that was only like two rows (it was faster to rip than to tink.) PROGRESS! I even got to talk to the designer herself, and she was most encouraging. Thanks Bonne Marie!
I hate to say it, but I think I might be able to finish this for tomorrow. I'm tempting fate, I know, but I've got 11 more decreases to go (although I lost count somewhere along the way and this seems like too many decreases, but it's how I can get to the numbers needed in the pattern. I can't find a mistake anywhere but it looks like I'm going to be two stitches short along the back. Maybe I'll just drop off two decreases back there. Otherwise, everything lines up. It's all going to be covered by the collar anyway, right?)
Anyway – I'm off to get buttons today. If I make it back and there's still light I'll snap a picture – otherwise, patience my pretties. Patience.
Have a great weekend!
L, C
ETA: I found buttons!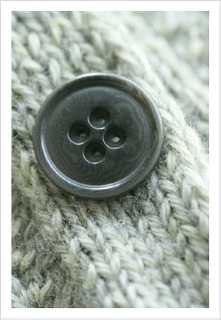 I went to Tender Buttons in NYC and this is what I came up with – I swear I went through a million buttons. This color is really really hard. I ended up with a pretty plain button – it's gray with a hint of green – which picks up the gray in the heather of the yarn. There's a really nice swirl to the button so it's not as plain as it appears at first glance. These may not be the buttons I end up with, but for now, they'll do. Off to finish the sweater! It'll be the best Hanukkah present! Happy Hanukkah everyone!