Thanks for all the comments on my goof up on row gauge. I actually figured it out myself while sitting a red light yesterday. Thank god no one told me how much math is involved in knitting before I actually started because I'm afraid I never would've picked up the needles and knitting is manna from heaven so WHEW! Dodged that bullet. I still hate math and knitty math even more because I know what should be right but I just can't seem to wrap my brain around it. So I sort of gloss over and ignore it and, well, that just makes more work than necessary.
When I left you all yesterday I was pondering which size to choose for Ariann – the 38″ or the 40.5″ I was pretty set on the 40.5″ and then I went home from buying yarn (more on that in a minute) and measured my ginormous boobs and found out that I'm about 39.5″ around. Hmmm. That's not a lot of ease in the 40.5″ and people have said that this pattern is running a bit small. I don't want a close fitting cardigan. I'm not going to wear a camisole underneath it (the last time I wore a camisole I was like 8) and I want something I can really wrap around me. So in a complete surprise I cast on for the 43″. I don't think this sweater will look bad on the bigger side. I don't intend to ever really belt it or button it and I like the big floppy look to it. Besides, so far I'm LOVING knitting it and I have enough yarn so why not? What's the worst thing that can happen? It's a little big? I'd much rather it be big than small.
I bought yarn yesterday while out with my stylist and she said it was PERFECT.
It's one of Cascade 220's THE HEATHERS which I totally love because pop-culturally that makes this yarn really really bitchy and I've just been itching to be bitchy lately. Color #9460 – Dune Heath – it's a mixture of celadon green, some subtle yellow and gray. I think the picture above is fairly accurate. After debating for too long of a time on what size to cast on – I cast on.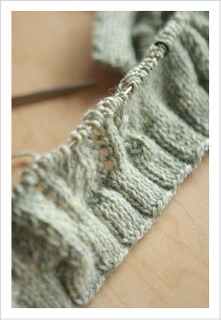 I'm about 4.5 pattern repeats in. Technically I should've started the waist shaping but I'm going to do at least 2 extra pattern repeats (two rows) maybe more because a) my row gauge is a bit off and b) I want it to be a bit longer anyway. So I'm knitting knitting knitting. And I'm loving it! It's so nice to not want to put a project down. I've been missing that.
Kay bought my boy a present yesterday too and then I bought one for me.
These are string dolls from Kamibashi and right now I love them more than anything. Kay bought Safety Boy for G: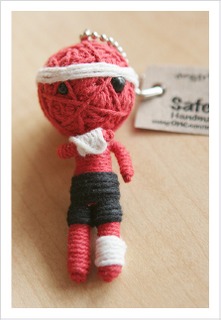 Safety Boy will help you recover from your injuries quickly. My boy really needs that now. And I bought Lover Boy.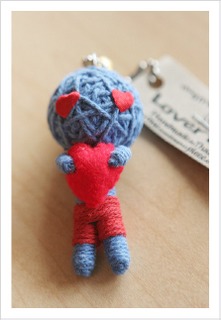 Lover Boy attracts passion, inspires loyalty, and serves up the love. As you all know, I'm all about the love.