I'm so sorry to disappoint but I can safely say that there will be no finished socks for October. NONE! I started three, finished none. You know in my heart I am a fickle fickle bitch and while I was going to try and finish at least one knee high or maybe a Pomatomus (I've turned the heel and am into the second chart) I said fuck it!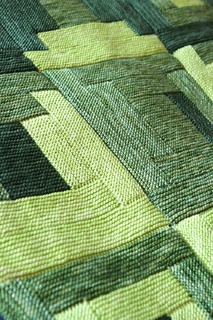 OH MY GOD! WHA? WHAT IS IT?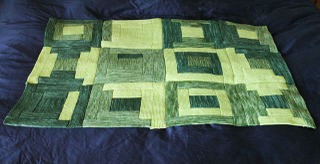 Yes, sweet ones, it's a seamed together Log Cabin. GASP!!!!
I know what you're thinking. What's gotten in to her?! First a finished Short Rows after 138 years and NOW she's seaming log cabins? Could she actually be FOLLOWING THROUGH with her projects?! Settle down. It's craziness I know. I had the squares in an exquisitely arranged pile on my dresser sitting atop some of the most beautiful quilting books known to man. They were lovely there – the ends hanging every which way and I could look at them and admire the stitches and the yarn and remember the gorgeous vacation where a lot of them were knit – maybe even catch a glimpse of some magic sand. But then I had a request to finish it. You know – one of those requests you sort of absolutely can't refuse and I decided this time was as right as any.
It was hardly as bad as I thought. I seamed this baby up in a few hours while watching a super cute movie that I now have to watch everytime it's on cable (basically I've got a crush on BOTH Reese AND Mark.) Kay, aka THE MASTER, had showed me once how to do a double crochet as a seam and I never really got the hang of it so I started to scootch around on the Internets and found that actual whipstich is a viable method of seaming afghans. Who knew? So I took out my handy dandy tapestry needle and started with two squares. After about five or six attempts – different yarn colors, different loops, fuck ups – I got my game plan on! Basically I ended up picking up the two bottom loops on the cast off (hold two squares together fronts facing – there will be two loops (?) for each bound off stitch – I picked the one at the bottom – the one you have to sort of dig for – I have no other way of explaining it.)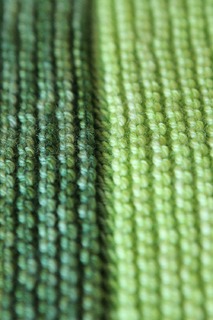 Right Side Seam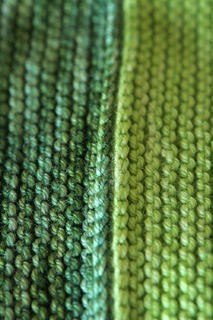 Wrong Side Seam
Once I started it was like I couldn't stop. I used this picture as my guide so there was absolutely no fiddling with the layout. I'm fairly certain I took some time laying out the squares when I set up for the original photo shoot, so I wasn't too concerned with how they would look all together. No, I never blocked the squares. There was only one instance where things got a bit wonky and for like five minutes I was sure I didn't finish a block, it seemed so much smaller, but I cajoled it and it fit and I dare you to try and figure out which square it is. (Honestly, I don't have a clue myself.)
Here's another look at the seams: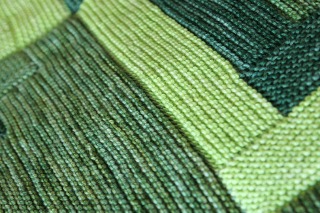 Right Side

Wrong Side
So now I have to figure out what to do with the border. I'm probably going to take a page from MY GURU and pick up stitches on each edge and do some kind of stripe thing – like five of the light color – one ridge of the dark color – and end with the middle color. Then do solid dark color miters in the corners. Or maybe just light, medium – dark miters. Any ideas would be grand. But before I do any kind of border – I'm tackling this: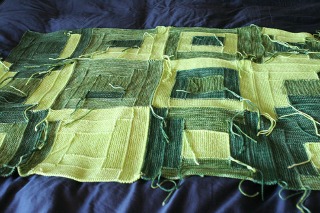 After short rows, I can weave in these babies with my eyes closed. Damn straight.
Details: Socks That Rock Heavyweight in the colors Beryl (dark), Jade (medium) and Limestone (light). US Size #5 Addi Turbos. Right now I'm on track to use 2 skeins of each color and the blanket currently measures about 32″x44″. I will probably have enough for the border – depending on how deep I make it.
So no socks. Sorry to disappoint. Next month for sure. 😉
I'm off to see the kids for Halloween. We've got a parade tonight, a school parade tomorrow and then actual candy collecting tomorrow night. Apparently my niece has a different princess costume for each event. I'm looking forward to some baby love. I'll be back on Thursday – hopefully with some cute Halloween pictures.
~+~+~+~+~



REMINDER!!!
NOW ACCEPTING SUBMISSIONS FOR YARNIVAL ISSUE 3!
THE DEADLINE IS WEDNESDAY, NOVEMBER 1!



To submit a blog post, USE THE SUBMISSION FORM. DO NOT leave your submission in the comments. DO NOT email me your submissions. SUBMISSIONS WILL BE ACCEPTED BY FORM ONLY. The deadline to submit is November 1st. The issue will appear on this blog November 15th.
Remember, ANYONE can submit, regardless of how long they've been blogging or how long they've been involved with the fiber arts. Give me your funny, your sad, your FO yearning to be seen! NOTHING is off limits. NO THING!
Don't remember what Yarnival! is?
It's this Internet thing called a Blog Carnival, which is an online compilation of very cool blog
entries. Of course, Yarnival! centers around knitting and fiber pursuits and it's a new way for us to read and get to know different blogs. I, for one, seem to be stuck in my same bloglines rut. Not that I don't have excellent blogs listed on my bloglines, but there are tons of new blogs out there and I've been too lazy to seek them out. YARNIVAL will help us all! Anyone, regardless of the length of time they've been blogging or the popularity of their blog, can submit a post to Yarnival. The editor for that edition will choose which ones to include and it will be posted on a certain day of the month. You can read more about Eve's vision here.
YARNIVAL people. YARNIVAL!
PS – If you'd like to edit a future edition of Yarnival!, please contact Eve at her blog, Needle Exchange.