because it's Wednesday.
Thanks for indulging me the last couple of days. It feels good to get all that stuff off my chest and you can't know how much I appreciate the audience. I'm pretty sure Ann wishes I never went to New Orleans, even if she is the only one who got a souvenir gift.
Want to see what I bought while I was there?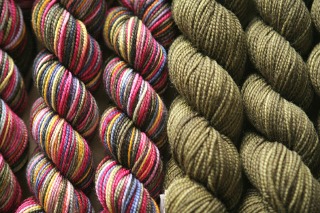 Koigu, P852 and 2340
Six skeins of Koigu from the Garden District Needlework Shop. This yarn is destined for knee highs – see how the EXACT same shade of the semi solid green shows up in the variegated? DUDE! There's your ribbing, heel and toe right there. It's taking everything in my power not to cast on for these RIGHT THIS SECOND. Sad really.
And, more Koigu: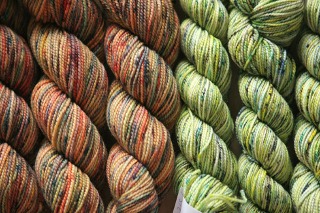 Koigu, P706 and P516
This time from The Quarterstitch. Destined for socks, I guess. Too pretty to pass up and look how they wrapped up my yarn!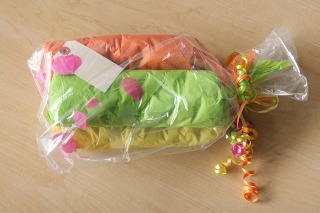 At one point while I was purchasing the yarn I ran out to catch a Second Line going by – and when I came back she had unwrapped all the yarn that she had already wrapped up. I said, oh did you think I wasn't coming back? And she said no – I did a crappy job so I wanted to do it over. A girl after my own heart!!
I also got a Rebuild T-shirt which I've finally taken off for the first time in three days so I could photograph it for you. And a DESIRE NOLA magnet.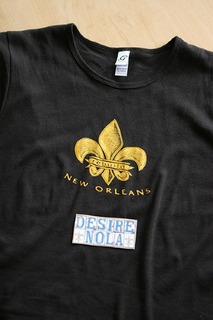 Lest you think it's all been bleeding hearts around here, I have been knitting. I finished the first Koigu Knee Sock!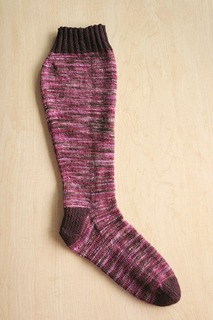 I love the way it looks, but the fit is off a bit from the STR knee highs – even though I kept adding rounds and adding rounds. The stitch gauge is about the same, but the row gauge seems to be way off. I'm going to have to recalculate for the NOLA knee highs, but for the next purple one I'll do the same thing. They fit fine – they just sink a little bit. Not fall down, just sink. Does that make sense? I want them to STAND AT ATTENTION! Anyway, Koigu is just so much different than STR and I still prefer STR over just about anything, but it's nice to mix things up a bit. Couple more shots of the sock: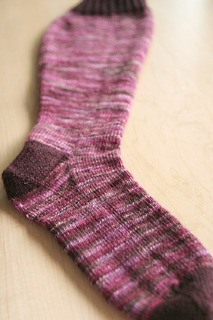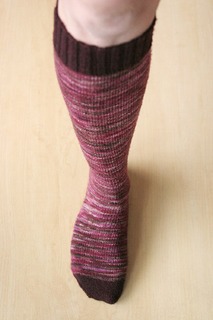 Now, I hate to disappoint all you log cabin lovers (and haters – because really – if I'm not knitting log cabins – what will you hate? 😉 ) but I'm putting my ONLY (and this just doesn't seem possible) size 5 addis to work on something else.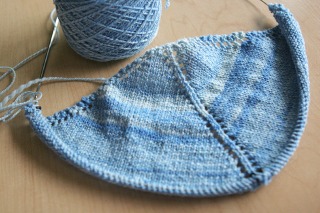 It's SERAPHIM. Knit in none other than MY OWN FREAKING HANDSPUN!!!!!! I'm almost positive I will have enough yarn for the shawl as written, but Mim has given instructions for increasing or decreasing if need be. It's really weird to be knitting with your own yarn. You have no one to curse out but yourself when the yarn is a pain in the ass. BUT I'm LOVING IT! Look at the nubly wonky weird stitches! Aren't they precious?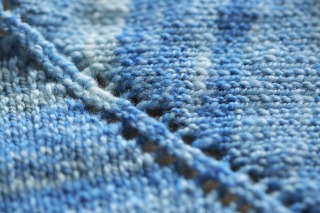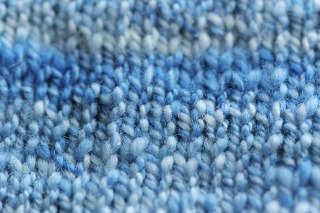 I declare on THIS DAY, September 13, 2006, that this shawl is MY RHINEBECK PROJECT. I will finish it before Rhinebeck. And I will WEAR it at Rhinebeck. I was going to do the Top Down BW sweater for Rhinebeck but it's just not calling out to me AT THIS MOMENT (you know what a fickle bitch I am.) The hardest part of getting this done in time will be NOT casting on for the NOLA knee highs. NO KNEE HIGHS. NONE. KNEE HIGHS BAD. Handspun Lace project good.