Forget the assholes of this world! PEOPLE ARE GOOD!
WE'RE AT $11006!!!
Once we reached $11,000, I upped the goal again. Am I being greedy? I don't think so! We've got a little more than a week to go before the registry closes – please feel free to donate up until JUNE 30th! This whole experience has so lifted me! I HAVE FAITH in ALL OF YOU!
And I've got swag too: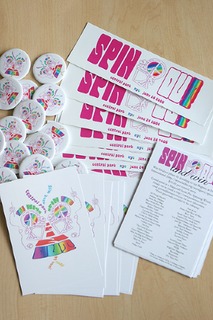 You've got buttons and magnets (they look the same) and bumperstickers and postcards I made advertising the raffle. Get there early peeps! I only have a limited number!
I promise – I haven't been checking the weather obsessively, but it looks like it's going to be in the 70s with scattered thunder storms and a 40% chance of rain. Sunday looks to be the same. So we're on as of right this second. I will update Friday night with a definite go ahead, but I think it looks good. What's the worst thing that happens? It rains a little? Bring your trash bags just in case. Also, Ruth was kind enough to check out Cherry Hill Fountain for us – everytime I've tried to get there I've had a change of plans! – and she says there are a bunch of benches around one side of the fountain – but you still might want to bring some kind of stool if you're bringing your wheel. What else? Oh yeah – some more prizes!!
Dani of Sunshine Yarns has generously donated a MEGA skein of Emerald Isle Sock Yarn – enough for TWO PAIRS! And the fabulous Adrian of Hello Yarn is sending us 8oz of her merino/silk blend! THANK YOU DANI AND ADRIAN!
And this JUST IN! LEXIE BARNES herself is donating a KNITTING BAG! How fabulous is that! Lexie YOU ROCK! I'll be sure to fill it with some of our other donated prizes for A FULL BAG!
Just so you all know, I've decided that instead of a million little prizes going out, I'm going to combine prizes into fabulous pseudo gift baskets – each filled with all kinds of different items from various vendors. So they'll be fewer winners – but whoever wins will be VERY HAPPY! TRUST ME! I've got many of the prizes sitting here tempting me and they are all GORGEOUS!
Again and again I can't THANK YOU ALL ENOUGH! WOOHOOOOOO!