First, let's get Short Rows news out of the way.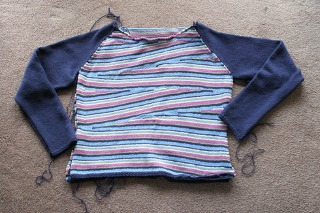 I joined three of the four raglan shoulder areas, as the pattern instructed, and now I'm at an impasse. The pattern says when knitting the collar to continue the stripe sequence for the front and back and the main color for the area over the sleeves. You know, because knitting a million short rows isn't enough. When you're so close to the end you need to add intarsia to the mix. Striped intarsia. Where the colors change every freaking row. Margene has told me a few times that I'm crazy and I should just knit the collar in the main color as a nice contrast but I was all like I've come this far I'm going to do the insane intarsia collar and guess what? I'm completely confused. The pattern says continue in the stripe sequence. Well, the stripe sequence for the back and the front is different. The back comes up higher than the front, duh, and while the teeny tiny tips at the raglan shaping on the front may match up with the back, the mini scoop doesn't. So if I follow in the stripe sequence it's all going to be off anyway. I'm thinking a solid collar is the way to go and then I don't have to really think about it. (Ann had a brilliant suggestion – that I photoshop a solid collar onto the picture from the magazine. I was going to post it but the picture I have on my site is somehow corrupted and I can't find another picture on the web and I can't find the magazine either. Maybe tomorrow.) And the pattern also has you knitting in stockinette then switching to garter stitch then folding down the collar for a hem and the ends of the sleeves and bottom of the body are all in seed stitch. Should I knit the end of the collar in seed stitch to match? Since I'm doing it all in one color? It's all kind of mute at this point because I don't have a circular needle to work. I have to look because I should have one – I mean I have 5 different size 7 addi circulars in like 3 different lengths, it seems kind of ridiculous that I only have one 6. Oh and I pseudo tried it on. I think it will be fine – if anything it will be a bit short, but hopefully not. I'm not thinking about it anymore so as not to torture myself. That's that – MOVING ON!
Black Diamond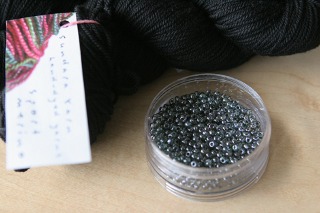 I am so freaking EXCITED about this project!!! It's going to be really, really hard to photograph, but I hope you can get a sense of it. You may remember that last summer I made the Diamond Fantasy Shawl from Sivia Harding. Possibly the most beautiful item I've ever knit, it sits on my couch, all laid out, in a place of honor. I just like to look at the perfect diamonds and crisp border points and well, I love it. I really do. Anyway, as soon as I finished it I was thinking about the NEXT one I would knit because it's such an amazing pattern NOT to knit it again would be a sin and the idea I had was for a very elegant black shawl with beads at the center of each diamond! Completely and utterly impractical but oh my god it would be gorgeous! It was in the back of my mind all the time, and finally! An excuse to make it!
G and I were invited to a wedding at the end of April – it's an old friend and one of those situations where even if I looked like Halle Berry I'd still feel a little bit ugly and self-conscious and fat. You know what I mean? So I'm thinking if I'm wrapped in handknit luxury I will feel a little bit better. And c'mon – who else there will have a fabulous handknit shawl? I'm thinking I'll wear it with a simple little black dress – or even if I decide to go with a color – it will look fabulous.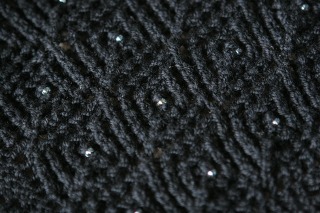 The yarn is from Sundara and man is she a pleasure to work with! I sent her an email telling her about my project and what I wanted it to be and she gave me suggestions on color and yarn. This is her sport weight superwash merino dyed in an ULTRA black. Like blackblackblack. For that superfantastic black feel. I give Sundara three thumbs up for service and product and expecially her enthusiasm for MY project. She's a great cheerleader. Kay helped me pick out my beads last week. All together they seem like a nice gunmetal color that would compliment the black, without being too bright against it. Perfect! Ends up the beads are actually transluscent and when I stopped into another bead store looking to see if I could find anything else, the guy there told me that my beads are actually glass – not seed beads like I thought. In retrospect, it may be the shape that makes them not seed beads, not the glass.) I think they are the bomb!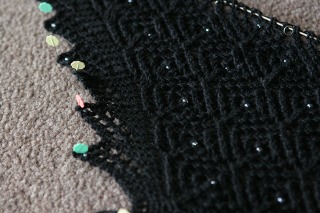 I'm putting a bead at the second stitch in from the end on the row before you bind off for the points on the border, and I'm putting one on the stitch you slip in the s1-k2tog-psso sequence that lands you square in the middle of the diamond. The beads end up being a bit off the right of center, but they're all in the same place and when it's all blocked out and gorgeous all you'll see is beauty, not wonkiness. I'm already three repeats in – I absolutely ADORE this pattern. I would encourage everyone and anyone to make it – it's not that difficult at all – and use stitch markers! They make things a lot easier!
Oh yeah and I got a package from the girls at Blue Moon. Click on the extended entry if you want a peak. 😉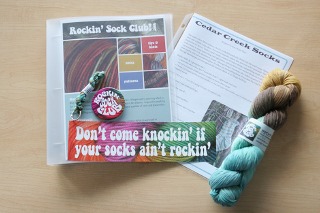 My first sock club package! Yarn in the new Rainforest Jasper colorway, my binder (with all kinds of goodies inside), my pattern (Cedar Creek Socks), my emergency sock yarn key ring, my bumper sticker, my pin – it's a SOCKS THAT ROCK EXTRAVAGANZA! I'm so proud of Tina and Kaci and the whole crew over at Blue Moon. They've been working night and day to get out the first installment of the sock club and I think they did a stellar job! ROCK ON!
This may seem obvious, but my favorite part of the sock club is definitely going to be the yarn. But not necessarily in the way you think. What I'm looking forward to is ~GASP~ having no control over what I get. It keeps me from buying the same colors over and over again and I know no matter what they send I will at the least be intrigued. Tina is a color genius and she hasn't let me down yet – even with some yarns I was kind of iffy about. I can't wait for the next installment! Thanks girls!