Can I just tell you? I'm so NOT a fan of St. Patrick's Day. There isn't an ounce of irish blood in me or my husband, I'm not a drinker, and I'm not so into green. Add to that I used to live on the same block as McSorley's, where people would literally line up around the block to get in on St. Pat's Day. The street would be lined with Porta-Potties and still there was a river of puke and piss. I also worked a few blocks from Fifth Avenue in the 50s (around the corner from St. Patrick's Cathedral) for many years and basically you couldn't leave the office on March 17th. BUT today. Well today I am as Irish as they come. All for my friend Vicki! She sent out the bat signal yesterday and I'm here to respond. It's been a tough month over at Vick's and I want you all to go on over and wish her brother Michael a happy birthday and send a big ol' pot of gold at the end of the rainbow for him. He's got some surgery going on today and all my wishes and hopes and prayers are with the Knitorious family! I LOVE YOU VICKI! (And don't forget – tell Vicki and Ann congrats on their YEAR QUIT DATE!!!! I'm so PROUD of both of them! YAY!)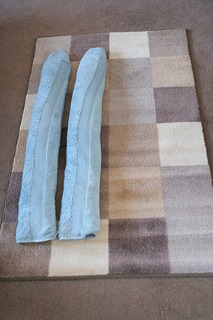 What's that you ask? Why I'd be happy to tell you!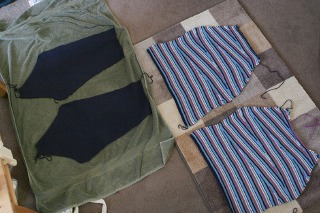 You know, I thought I was the proudest ever when I completed the first back of Short Rows. Then I thought I was the TOTAL SHIT when I finished REKNITTING the back because of gauge issues and FINISHED the front. When I finished the sleeves, well, let me tell you baby it was going to be all ends all the time at Chez January One. Yeah. Right.
NOTHING. None of my other knitting accomplishments, with this project, or any other project, prepared me for the elation I felt when I did this: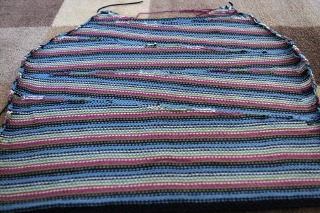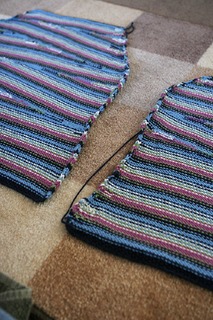 I DID IT!!!! I WOVE IN EVERY SINGLE FREAKING END! Now, in case you're not suitably impressed, we're talking 1,472,039 ends. Literally. That is no exaggeration. Want a reminder?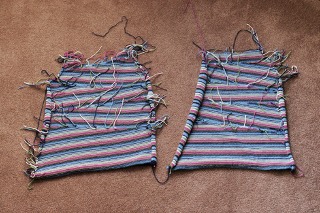 Click to see it bigger so you can actually count the ends.
Yeah. I thought so. I'm SO HAPPY I didn't take any shortcuts! I'm so freaking happy. Who cares if I never sew it up and give it a collar and ever wear it. I WOVE IN THE ENDS! Sigh. It's the little things in life, right?
Don't worry all you short row freaks out there. I will sew it up and I will knit the collar and I will wear it. Although I have to say I'm really really really nervous about it. I mean, what if I put it on and it doesn't fit? Or I put it on and someone splashes spaghetti sauce on me? Or I just eat normally and get crap all over it? What if I sweat in it (I'm a bad perspirer) and I get all kinds of deodorant stains on it and then it's ruined forever? What if it doesn't ohmygod fit? So see, if I procrastinate a little bit it's only because I'm afraid that if I actually finish it I might have to wear it and then I might ruin it and it's been a year since I started this and it will be my greatest knitting accomplishment and is that pathetic because maybe this project isn't as great I thought it once was and it's like a pullover with some stripes easy peasy and who will care? And what if it doesn't FUCKING FIT?