Rinse. Repeat.
It was a wonderful vacation. We slept great. We ate even better. And, well, I surpassed my knitting goals. There was lots of cuddling and togetherness. A pedicure. A spin out. A suite. All in all, it couldn't have been better – even though the weather wasn't as warm as we'd have liked and the wind was a bit too strong. I wouldn't trade it for the world though.
Here's what I knit: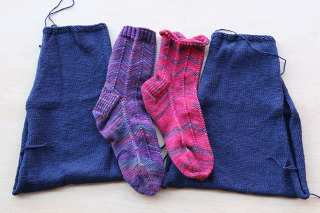 I finished the Short Row sleeves. YAY! All that's left is to weave in the 3,418 ends from the back and the front and seam, do the collar and seam some more. I can taste the end. Hopefully it won't take another six months to finish.
I finished my Rare Gems sock AND my first Red Hot Sizzling Sock. The RHSS is knit using Ruby Slippers STR with the picot edge modification – I started it Wednesday when I should've been packing – managed the picot edge and a couple repeats before it was time for bed. So most of the sock was knit in Florida – including the last couple of repeats and the toe while waiting on the runway for the plane to take off. The flight took about two hours longer than scheduled so I was also able to cast on and start the second Petroglyph sock. I got past the ribbing and a few repeats – but we were watching The Wedding Crashers on the plane and until I got smart and put it down, I screwed up some of the repeats. I'll rip that today and start the second RHSS as well.
The food was unbelievable. I had what can honestly be described as the best meal of my life. I was dizzy it was so good. We ate at Mark's in South Beach. For an appetizer I had Jumbo diver scallops, puree of calabaza, guava butter and plantain chip. Georgie had Tartare of yellowfin tuna, avocado, cucumber noodles, lemongrass oil. For dinner I had pistacio crusted lamb chops with brussel sprouts and cauliflower with bacon and pomegranates and potatos au gratin. G had Maine lobster tossed with saffron linguine, roma tomatoes, basil, white beans, English peas and prosciutto, served with roasted garlic crostini. Neither one of could speak the food was so good. (All of the dishes above are on the menu at the website except my lambchops.) I don't even remember dessert, but it paled compared to the meal.
The next night we ate at Azul in Miami. I started with the butternut squash soup with hazelnuts and G had fried oysters wrapped in salmon, tuna, beef and crab carpaccios. For dinner, Georgie had the halibut and I had the Salmon duo – one side of the plate had poached salmon and the other side had salmon wrapped in mushrooms in a kind of spring roll type wrapping. Yummmm! Dessert here was really a treat though – vanilla souffle with three different sauces – chocolate, rasberry and creme anglaise. So divine.
Every meal we ate was delicious – but these two meals stand out.
What else? We had our first stuck on the runway experience – you know – when they taxi out and it looks like you're going to take off then they stop the plane and tell you we'll be sitting here for the next two hours – make yourself comfortable? Yeah. Not too much panic from the anxious claustrophobic girl. The good thing was I had already taken my pre-board Xanax so I was nicely juiced when they made the announcement. I knit along happily on my RHSS and finished it – I was about to kitchener the toe when I couldn't find my cuticle scissors – I always travel with them. The round tips have been allowed by the TSA for years and years. Anyway, since the plane was a free for all I went up and asked the flight attendants if they had a scissors. Not allowed. But one of them told me she saw a woman knitting a blanket back in coach – let's go ask her. So I walked to the back of the plane with the flight attendant – but she didn't have scissors. We talked for a bit about my sock and then I made my way back to the front. Fun times on an airplane.
By the way – in case you're flying any time soon – customs has completely RELAXED the requirements for knitting needles and such. I used to have a whole system for getting my needles and such through customs – but this time they barely batted and eye and even told me I didn't have to take my scissors out (I used to put them in the cell phone bin because otherwise they'd rip apart my stuff.) I traveled with addi turbo circulars – from US 1s to US 6s exclusively and had no problems what so ever.
I'll be making the official announcement tomorrow, but I'm closing down the jaywalker knit along after the giveaway on the 14th. I decided yesterday and as hard as this decision is for me, oh my god what a weight off my shoulders. This thing has taken over my life and that's not fun. Basically I'll be shutting down sign-ups tomorrow, because, well, if you haven't had an update by then, you're not eligible to win anyway. It's been an amazing ride, but I kind of want my blog back.
I wanted to add a word cloud which I saw over at Karma's but I'm having server issues all over the place. When things get back up I'll add it.
Here it is!
Have a great day!