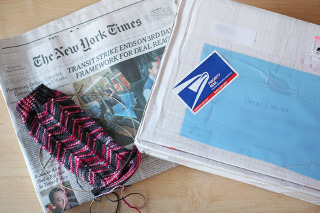 I call this "Day 9: A Still Life with Jaywalker Sock Number Nine, Today's Paper, and The Gift That I Will NEVER Freaking Open." Enjoy!
~ What better way to calm the Xmas knitting panic than a little Knit and Tonic Vesper sock yarn with a Jaywalker twist? Anmiryam's got it all figured out!
~ BigLug's got Candy Cane Jaywalkers! And scrumptious looking Xmas cookies! And Peppermint Ice Cream! (Not so sure about that one.)
~ Carol's got a picture of her finished jaywalkers! Thanks Carol! But guess what? It's TOO FREAKING HOT to wear socks. Sing with me: Carol comes from the land down under, where socks are warm and jaywalkers!
~ Ellie was making progress, before she broke a needle. But she managed to fill her sock down time pretty easily! Have a great time at home, Ellie, and I'll expect a finished sock(s) when you get back!
~ Helen's had a rough time of it lately. I'm so sorry Helen. Go wish her some holiday cheer and tell her how great her jaywalkers are looking. Hope the New Year brings your family much peace, Helen.
~ Jasmin's cruising along with her Jaywalkers – one down one to go! They're beautiful Jasmin – I love the Serengeti Cherry Tree Hill colorway. And check out those floral embellishments made from recycled sweaters! Very crafty grrl! (Oh and sorry I missed you last week!)
~ Jess's about to start the toe on her second sock – I'm a-waiting on a finished pair soon! YAY Jess!
~ Go check out Julia's sad, sad jaywalker. Apparently, I jinxed her. I said she was rolling along in last week's update and she immediately snapped a needle. But Julia, look at it this way, if you hadn't snapped the needle and had to wait for a new one, maybe you wouldn't have finished that GORGEOUS sweater! It's just beautiful!
~ Julie's DONE! And the socks are already off to their new home – check out her super cute label!
~ I suck. I missed Julie's updates two weeks in a row. Check them out, PLEASE! Oh and Julie – you're a real knitter by the fact that you're knitting! That alone can do it! 😉
~ Gratuitous Jaywalker Photos! (Thanks KathyB!)
~ Now see Kim? Didn't I tell you not to be nervous? That's one magnificent jaywalker. The pair will be to die for!
~ Another sock knitter is born! Laura has turned her first heel and a beauty it is! Congratulations! It's all smooth sailing from now on.
~ Lcord's hit a bump in the road – but one step back in Jaywalkers is like ten steps back in any other sock – you'll be done in no time!
~ Oh Lisa! I am SO SORRY! Folks, go over and give Lisa lots of love. Some prick (doesn't do the asshole justice) broke into her home and robbed her family. Thank god no one was hurt, but her camera and computer was stolen. I'm sure your Jaywalker is beautiful, Lisa – and I hope knitting it gives you some comfort.
~ Let's get the business out of the way first – go on over to Liz's and vote on which yarn she should use for her jaywalkers. And once you're done with that – PLEASE check out her AMAZING fair isle stockings. Oh my!
~ May's finished! She's got a picture to prove it – all Rowan like in the snow with her stunning STR Pebbles pair! Thanks for sharing May! They're beautiful!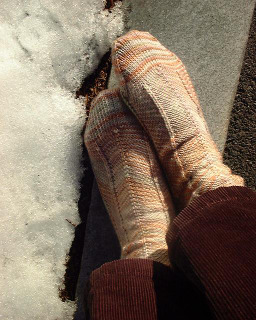 ~ Mimsie's going the two at once route, but unfortunately, one sock ended up with more stitches than the other. Rip it! Rip it GOOD! They look really nice though. You'll have a pair lickety split!
~ Feel better Renata! Jaywalking can be dizzying – they go so fast – so proceed with caution!
~ Robyn asks the age old question: "Can you eat cookies while you jaywalk?" I probably couldn't. When I eat cookies – it's sort of an extreme sport. But Robyn seems to be doing nicely.
~ Rock Chick's got jaywalkers on the needles. She hates the yarn, and I'm willing to bet she's not too fond of the person she's knitting the socks for, but really, all you need to know is that my blog is linked in the same post as this image: "Knitting with this crap makes knitting with Kroy seem like cashmere from a goat whose golden balls gently clink out Handel's Messiah as he gambols about the meadow." Genius. Absolutely genius. Thank you RC.
~ Rosemary's not sure what to blog about, but honestly, those jaywalkers speak for themselves! They look great! Have a good trip!
~ Sandra's got one pair down, Fire on The Mountain STR (Hey! They look familiar!) and one pair just started. Hey Sandra! Did you hear? The strikes off! 😉
~ We've got ourselves a regular Dorothy Hamill in our midst! Very impressive Sara! Back camels and sit spins and figure eights – I love the ice! (Now if only you could make jaywalking look so graceful! Sorry for the rocky start!)
~ Here are some hugs for you Sarah! Sarah's under the weather – and on top of that she got fed up with an imperfect Jaywalker (is there such a thing?) and ripped it out. Get back on that horse! You were so happy with your first attempt! Get back to the love!
~ Stacey's got one finished! Wonderful! And I love how the sock kind of matches her blog, don't you think?
~ Susan's got questions: 1) Anybody knitting the larger sized Jaywalkers? She'd like some input. 2) Anybody got stories of funny yet disasterous family holidays? Yeah. I thought so. Go on over and don't hold back. 😉
~ You know why they're called Petrified Vicki? Because they're so FREAKING GORGEOUS that you like freeze in your tracks when you see them. I need to call Tina today – don't have that STR in the stash and I MUST have it!
~ Wannietta's booking along on her lovely Jaywalker! Glad it's working out this time! YAY!
This will be the last update before Chrismukkahkwanzaa. I leave the uninitiated with this: Jonathan Safran Foer's "A Beginner's Guide to Hanukkah." Have a lovely day, whatever you celebrate!