baby's back.
This time she'll tell me how she really feels.
This post will have something for everyone! Consider it Random Wednesday. Only it's Monday.
As I mentioned on Friday, Thanksgiving went really well. The food was great, company better and it all went off without incident. Except for the fact that my sister got a cold Wednesday night and felt miserable all day Thursday, it couldn't have gone better. My contribution (besides watching the kids off and on all day to keep them out of their mom's hair and vaccuuming) was a salad. I modeled it after my favorite salad of all time from Gigino's in NYC. It's the Peperina salad and I made it with mixed baby lettuces, shaved pear, shaved parmesan, pecans (I thought they used pecans, but I guess they use walnuts) and pomegranate seeds sprinkled with white balsamic vinegar. I was really pleased with how it came out and everyone seemed to enjoy it.
I've got no pictures of the kids because I didn't take my camera with me. I know. Blasphemy. But I'm sick of taking pictures and I'd just download them to the computer and they would sit there. Besides this was a break from photography work and it worked because yesterday I got A LOT of work done and I'm feeling like I'm back on track. At least a little bit. But I got a lot of cuddle time with the kids and they got their new bunk beds which was a trip in and of itself. My nephew ended up sleeping on the bottom bunk and my niece slept with me on the floor. The baby is big as can be – if I could only show you his monster thighs – but he's so much fun! He giggles nonstop and just smiles so sweet and he's such a cuddler. This is definitely one of my favorite ages. They're still babies, but they can engage you in that wide eyed wonderful way. All you have to do is smile and his whole face lights up. I miss them.
She moves up, she moves back
Out on the floor there just is no one cleaner
She does this thing she calls the "Jump back Jack"
I hit the mail jackpot on Friday. Georgie was particularly impressed. I always call him to find out about the mail when I'm away and his standard reply is junk junk and more junk. This time HE called ME. There were lots of lovely thank you cards from all those boxes I sent out the other day – so sweet! An email is plenty, but a card? In the mail? For me? I was really touched. Thank YOU! Vicki's card was my favorite – check out this knitted thank you: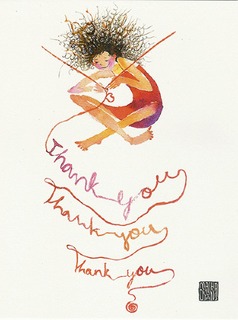 I tried to find the card on the artist's website, but it wasn't there. Hey Vicki! Where'd you get the card? It's SO LaPierre!
But what really impressed Georgie was the package from Hong Kong. I got my Crossed In Translation book! Yay! The book is really beautiful – think Rowan meets the House of the Rising Sun. And the freaking pattern is TWO pages. Lucky for us, knitalongers, there's barely any words to go along with the pattern. It's all charts and schematics. We should be able to figure this out no problem, right? G-Love thinks I've completely lost it. He may be right.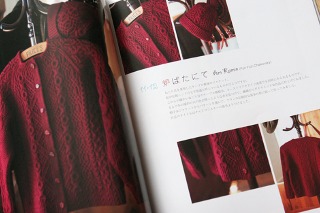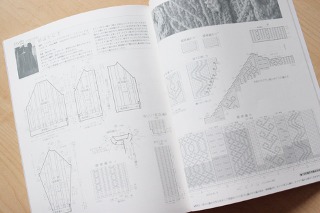 Oh and rest assured, seeing the sweater in it's native language has only made me love it more.
She slips, she slides, she slops, she bops, she bumps, she grinds
Now if only I could stop making socks: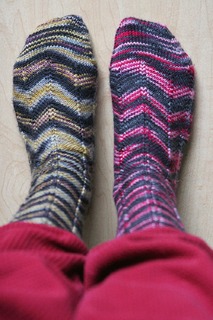 Kaci – this pictures for you! Mwah!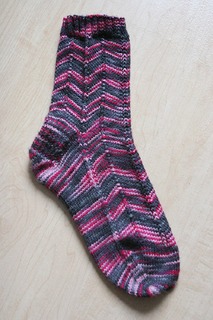 I finished one…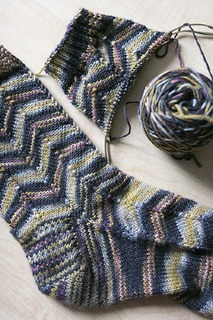 and started another!
For all you Jaywalkers out there, I'm planning on doing an FAQ for this Friday's update. So if you have questions – let me know in the comments, or in an email. And don't forget you can always email me or Kathy (who, by the way, is an inspiration to me! First Jaywalker, and now Grumpecue! Kathy, you're killing me!) Basically everyone seems to have similar issues, so we'll address them this week. Namely gauge and the bar increases (yes – the holes are supposed to be there! It's a design thing! 😉 ) But if you've got other questions, let me know.
My heart's wood, she's a carpenter
She's an angel in the night, what she does is alright
As much as I love my socks, I'm sort of getting frustrated with myself. It's like I can't knit ANYTHING else. I think about all these projects I want to knit – mittens, finish my gloves, work on the Prairie Blanket. I just can't seem to concentrate. I'm trying to go with the flow like Margene says, but I'm antsy. And this doesn't just relate to my knitting either – when's the last time I read a book? Can someone tell me please? How pathetic is that?
We're not going to even discuss the fact that I just got off the phone with the embryo people – I was late on my payment to keep those totsicles frozen. When's that shrink appointment again?
Dance with me, partner, dance with me, partner
Dance with me, partner, all night
If you've got the DVD, make sure you watch the supplemental material on documentary disc. I can't stop watching Thundercrack. Over and over and over again. It's simply stunning. D
O IT! WATCH IT NOW! You can thank me later.