It's a 3fer today! Be sure to comment on EVERY ENTRY. 😉
Okay – time to play Name That Tune – or Name that KAL. In case you've forgotten, you were playing for the book that owns this sweater!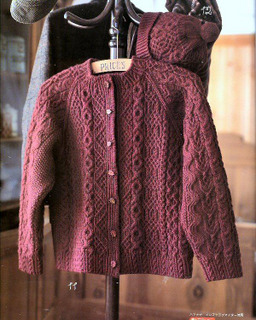 There were so many good names, but I've sort of kind of narrowed it down to two. There will be vote at the end because I just can't make up my mind.
Some of my favorite suggestions: Julia's JapaFuckingKnit was like an arrow to my heart, since I'm sure I'll be screaming that as I'm throwing the knitting across the room. Jessica offered Kousa-Along since kousa means crossed in Japanese, but she also said it could mean a test or education, which she rightly thought this knit might be. Susan then suggested "anata ga suki yo" which means I love you in Japanese – I took that one step further and was going to go for aishiteru, which means "I love you" in a deep profound way. 😉 And then another Julia suggested Crossed in Translation. This one has really, really stuck with me. She based it on the movie – Lost in Translation, which, if you haven't seen it, is about a young married woman who is in Japan and she meets up with an older married man who's also in Japan and they have a…friendship. She's kind of lost (which I suspect we will be with this pattern) and there's definitely love between the two of them and better yet – SHE KNITS IN THE MOVIE! Okay – it's a goofy scarf, but still, she knits.
Then, as a late entry, Barbara suggested AmiCable. This is her explanation: "The Japanese knitting site says that the Japanese word for knit is pronounced "ami". "Ami" is also "friend" in French and the root of the word "amicable" which means "having a spirit of friendliness". So you could call it AmiCable – knit (japanese) cables in the spirit of friendliness."
So I'm narrowing it down to Crossed in Translation or AmiCable. You decide.
Polls will close Friday, 12AM EST. I want to start making buttons and stuff. 😉
Oh and I was emailing Judy yesterday – she has the book – and she says it seems like it's in a DK/Sport weight with a gauge of 28 st and 24 rows per 10 cm [4 inches]. The back has 139 stitches which equals 20″ and the fronts, including button bands are 75 stitches. She also told me the sides are all seed stitch – so it will be easy to widen it. I'm still SO EXCITED. Thanks Judy!
Okay – so don't forget to vote and have a great day!
die boglines die!