I want a t-shirt that says this. Who's going to help me design it? We can sell it and give the proceeds to charity. I'm not kidding. I need a t-shirt that says "got gauge?" and maybe one that says "swatch-n-bitch". What do you think?
This weekend was all about the knit, baby. And even though there was some phenomenally BAD news of the knitting variety, I enjoyed the weekend and thinking about my knits.
I'm leading off with the bad, because, well, it's so bad that I want EVERYONE to read it – none of this skimming through and missing it at the end.
Okay. Here goes.
Friday night, I FINALLY cast on the front of Short Rows. And guess what? I GOT GAUGE!!!! This may seem like a good thing, but trust me, it's very, very, very bad. Why you ask? Because when I knit the back, I didn't get gauge. Or at least I thought I didn't – I seem to remember measuring it a bunch of times. I even remember starting it a couple of times and ripping it because I DIDN'T get gauge. I deliberately, painstakingly decided to move up a size in the pattern – which would leave me with a sweater conveniently between the medium and large size. Nice and comfortable for me. But while I was casting on and knitting the front, something kept nagging at me about the back. It just seemed, so, I don't know, HUGE. And I kept pushing those bad feelings down, down into the locked closet of my brain that sucks all the bad thoughts in like a hoover – as I've been training myself to do. (It's working. A little bit. Everyday.)
But. I just couldn't let it alone.
Sunday, I got out a sweater I have that fits pretty good and put the two backs together. Then I took out not one, but three tape measures. Sure enough I GOT FUCKING GAUGE! The sweater matches perfectly to the dimensions the pattern lists for a large. It is WAY too big.
I think you all know where this is going. Do I really have to say it? At least I didn't get too far on the front (honestly, I was getting bored pretty quickly. What happened to all the love?) I'm going to cast on again for a back. In the size I should've done the whole time. I'm going to knit said back, and compare the two. Then I'm going to rip the sleeve I'VE ALREADY KNIT, because I can salvage the yarn easily. I think I might just leave the first back and buy more yarn. The thought of ripping it, after I've cut and WOVEN IN all those ends is enough to – I don't know – NEVER KNIT AGAIN?! What's a few extra dollars for a project I really loved (once) and want to get right? Don't you agree? Eventually I can rip out the bad back and make something with the yarn. But right now, I think that would just be way too depressing.
That's it. That's my awful knitty news. Feel sorry for me. Seriously – I WANT the pity.
~+~+~+~+~
On to the GOOD!
I found a new knitting store this weekend. I was looking through the new VK and came across some interesting notions. When I went on the website to see where they were sold, I found Stix-n-Stitches in Montclair, NJ. They literally opened about a week ago. The store was very nice – nice wood – roomy – lots of cool notions and stuff. Tons of Classic Elite yarns. I asked the proprietress, Sheila, what kinds of new yarns she was going to get in. No Noro or Debbie Bliss, because another yarn store in town is going to carry it. What about Rowan, I asked. Another new store opening up is going to carry that, so no. I found this really, really interesting. What do you think? Is she limiting her business by not carrying yarns that other stores in the area are carrying? I'm not sure what I think about this.
One thing she does have is a full line of ArtYarns – which happens to be one of my all time favorites – so that's good!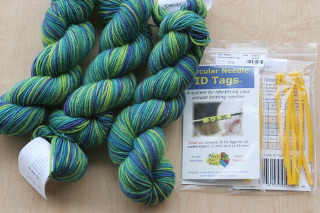 That's Ultramerino 4 – a new fingering weight yarn. They've come out with Ultramerino 6 as well to go along with the 8. Good stuff. Oh and I bought some circular needle size markers as well. They clip onto the wire and clip right off. Never seen them before – maybe they'll help.
All in all – a nice store that I definitely plan on going back to – Jen – whenever you're ready!
I spent a lot of time looking through stitch pattern books this weekend. I was pulling together cable patterns for my dad's sweater and also looking for stitch patterns for squares for the John Glick Afghan Project. Some fits and starts, but I've managed to identify all of the cables and I've finished one square and started another.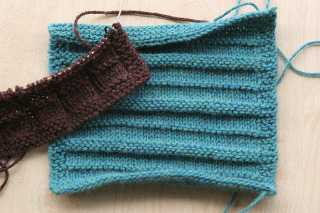 Both squares are from Cascade 220 I had in the stash. I love the blue-green heather color and I have more, so I might make another one with this. The stitch on that one is the Quaker Ridge from Barbara Walker – I figured it was fitting for John since by all accounts he was a peace loving man, traits the Quakers embody. The brown square stitch is called Jacob's Ladder or Ladder of Life – both of which I thought were appropriate. I've tried to infuse the squares with love. I hope they bring comfort to the recipient.
And last but not least, when your knitting gets you down, KNIT SOCKS!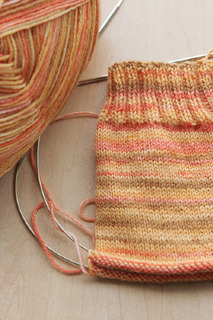 I'm calling these my Walking on Sunshine socks! I'm hoping to remember the bright, warm, NOT HUMID, sunny day I started them on when I'm wearing them on a particularly cold and gray winter day. Also, they match my bright orange flip flops (which I won't be posting a picture of – they've turned black under my toes and well, ew.)
I'm using Trekking XXL Crazy Stripes in Color 38 – I'm loving me some stripes and stockinette and hey, you can never have too many socks, right Margene? (Check it out – she's got FOUR FEET!)