that I still knit: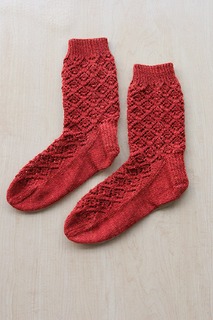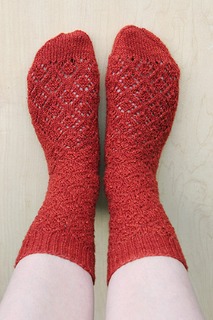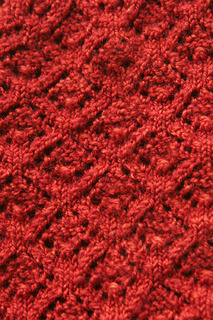 Socka-Pal-2-Za Socks
Acorn Sock pattern by Evelyn Clark/Fibertrends
Koigu, color #1110
Done on two circs – Addi size #1s
Actually, my knitting was a little overzealous. I finished the second sock, well, all but the grafting, in bed last night and this morning I woke up and grafted. When I compared it to the first one, I realized I had gone too far on the foot – you were supposed to stop at either row 9 of the lace repeat or finish the repeat and stop at row 1 of the next repeat – I should've stopped at 9. So I ripped and finished the sock while watching Meet the Fockers – which was pretty funny. I thought Dustin and Babs did a great job.
I really like these socks and the pattern is terrific. They're a little tight around the cuff – should've done it on size twos probably, but I think they'll fit my sock pal fine. She's about the same size as me, if not a little bit smaller, so I say they're good to go. Now, a question. What about blocking? I washed my first pair, but didn't block it. How do you block socks (if you don't have a sock blocker tool.) Do you need to block socks? Can I just wash them and leave them to dry or do they need to be blocked? Thanks!
I'm planning on casting on a lot this weekend. Progress picks on Monday, hopefully. Have a great weekend!