for three rows of seed stitch!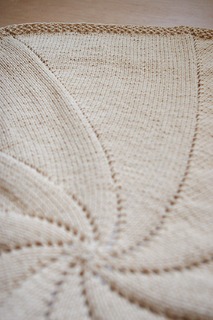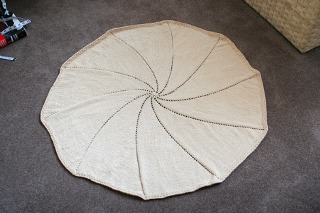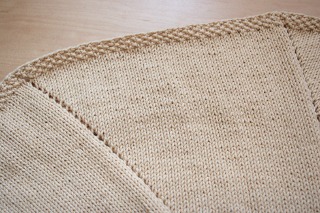 DUH!!!!
It's elegant. It's organic to the knit. It's perfect.
I must have tried (literally) four or five different edging options. In the end three rows of seed stitch (with pattern appropriate yos) and binding off in seed stitch did the trick! Thank you all so much for your suggestions. I'm so glad it's finished. I think it's perfect for a little boy – it has that perfect Linus quality – it's soft – and I can only imagine it will get softer and softer with love – and I can just see Baby Eli dragging it behind him in a year or two, needing it to sleep at night, comforting him when he's sad. Eli, honey-pie, Aunt Cara loves you so, so, so MUCH!
I'll be delivering it to him this weekend (and pictures will come.) First, though, I need to weave in the few ends and give it a good wash (don't forget the crazy lady on the train who stole it out of my hands. EWWW!) Any washing suggestions for All Season's Cotton? It needs to be blocked a little too – the seed stitch is a nice flat border but still – doesn't everything need to be blocked? I have some of that Eucalan stuff, but I'd really like to try washing it in the washing machine. I told my sister it was machine washable and she almost cried so I'd hate to have lied to her.
All Season's Cotton!
Now that I'm finished, I still have 13 skeins of ASC in the discontinued color Tapestry. Ten of those skeins are still in the bag. Smoke free, in plastic, perfect skeins. Anybody want to trade? Or buy them off me?
Secret Pal IV
I want to thank Alyx (I was her pal) and Kirsten (she was my pal) for making my first Secret Pal experience so much fun. Alyx introduced herself to me with a gift certificate to Elann! Now that's my kind of meet and greet. It was great to be spoiled and to the spoiling. Thank you both so much!
Sofa Knitting
Isn't this an olympic sport? Summer, winter – it'll fit anywhere! Jen and I were training yesterday – on her brand new couch. We've been friends for almost a year and I think we've actually knit together TWICE. (Jen – don't forget knitting at the DMV!)
Let me tell you. I need the training. I tried rather unsuccessfully to start a swatch for the Seed Stitch Cable Cardigan. (Look how beautifully Toni's is coming along!). I was trying to swatch for it in Wool Cotton but had A LOT of trouble reading the freaking chart. First it was backwards – the stitches started on the LEFT of the chart (this isn't normal is it? – you knit from the right, don't you?) It started with a WS row and basically I just fucked it up. Not once, not twice, but three times. Then I gave up. Maybe I want to do this in the CashCotton instead? Not sure – I want it to be a really fabulous cardigan. Anyway, I gave up and went back to weaving in ends on Short Rows. I'm determined to get the ends in on the back BEFORE I start on the front – I'm really missing this knit too! I might cast on for Clapotis now too. I need to get going on that – since my friend's birthday is May 20. It will be late. No doubt about it.
By the way, Jen was knitting up some of this worsted merino. (WEBS sells it under the Malabrigo name – for more than twice the price.) It's similar to Manos – but OH.MY.GOD. this shit is the softest stuff I have ever felt in my life. Jen's making a soaker and let me tell you – make me an adult one! I'd love my bare ass next to that stuff. Seriously. Crazy soft.
We watched a movie – Raising Helen. The movie was eh but there was knitting content. Joan Cusack plays the Martha Stewart wanna be mom and in one scene she's sitting on the couch with her husband, knitting, and they're watching tv. She says to him, "See, all the celebrities are knitting now." Kind of funny, but later, a Jaguar pulls into their driveway and the Cusack character says to her husband "Who do we know that drives a Jaguar?" and the husband says, "Maybe it's a celebrity coming to knit with you." Pretty funny. Funniest part of the movie – so really, don't bother.
Thanks Jen! For a very, very nice afternoon. (Next time – my house, Sense & Sensibility. Be there or be square! Oh and I promise to get the good cookies!)