Move over Monkeys! Bah Bye Babette! THE BEES ARE IN TOWN!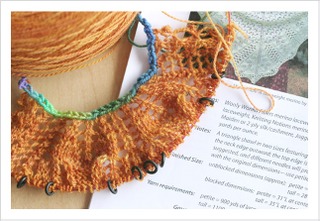 You know, there's a reason my knitting generally turns out so well – my particular talent is putting genius together! Great yarn + great patterns = FABULOUS knits! It's really quite easy. I'm QUITE proud of my latest trick! The other day I was talking to my genius friend Tina (the one responsible for my favorite sock yarn) about my genius friend Anne (knit designer extraordinaire!) We were talking about my finished Moth Shawl and I was asking Tina if she had seen the new Bee Fields Shawl and oh my god isn't it FANTASTIC?!? Then I subtly dropped some hints like "Wouldn't it be amazing if you were to dye up a colorway that was ACTUALLY honey?! Hmmm. Could you do that?" Tina, never one to shy away from a challenge, said OF COURSE she could!
I am so, so pleased to introduce Oregon Red Clover Honey!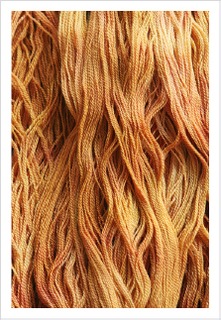 I took it out of the box yesterday and for about fifteen seconds I wondered if it was too dark, but then I went to the cabinet and took out some honey. It's UNBELIEVABLY PERFECT!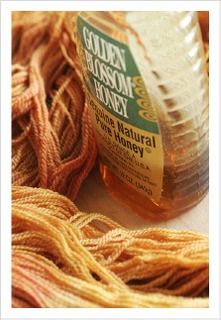 By sheer genius, Tina has managed to capture all the subtleties of honey – the bronzes, the reds, the blonds, the golds! I snapped a few pictures and immediately started winding it up! Imagine how pleased I was to find that it completely resembled a honeycomb in the yarn cake!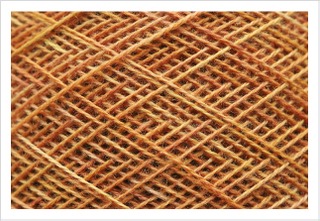 It took forever to wind! There is A LOT of yarn in this baby. It's Blue Moon's Laci yarn (100% Extra Fine 80's Merino), and it comes with a whopping 1750 yards. I've been assured that while the Oregon Red Clover Honey colorway isn't up there this second, it will be up on their website sometime today. ETA: IT's UP! (You'll be able to find it in the shaded solids section.)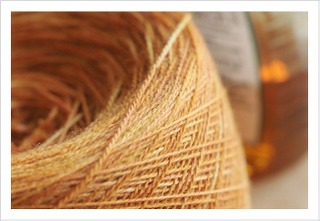 It was all I could do NOT to cast on immediately, but I had some errands to run. As soon as I was home that baby hit the needles. I'm using size 5 needles (Addi Lace Turbos) and for the provisional cast on, I used Eunny's directions found here – the second crochet cast on.
This is not a lace pattern for the faint of heart. I've never used a life line in my lace knitting before (and yes, I've had to rip plenty) but with this one – this one I'm getting out the dental floss! I'm about 16 rows into it and it's quite enjoyable – I can already see the border and pattern emerging – but it takes a lot of concentration. Actually, now that I think about it, Monkeys and Babette might be the perfect partners for The Bees.
Because I'm very impatient, I also ordered yarn from Anne over at Wooly Wonka Fibers. This is the Buckwheat Honey colorway of the yarn Anne and Anne used for The Bee Fields Kit.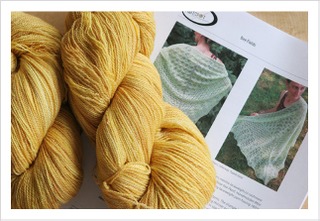 Since I jumped the gun, I'd love to share this kit with you. Leave me your favorite bee story – whether it's a bee sting, a honey recipe, anything goes, and I'll choose a winner at random on Tuesday. Please, one entry per person. You will receive the Buckwheat Honey yarn and the Bee Fields Pattern. Entries will be accepted through 11:59 PM Monday, July 30.
ETA: This just in!! Tina has generously donated a skein of Oregon Red Clover Honey, and I'll supply another copy of Anne's pattern! So we'll have TWO winners! YAY!
Have a fantastic weekend!